In 2018, our fantastic students achieved a 99.1% pass rate! Almost a third of all A level grades were awarded at either A* or A, way above the national average, with almost 82.1% of A2 taught courses graded A* to C.
Value Added (for 2017)
Farnborough's achievements, when looking at the Value Added (VA) figures in relation to all local colleges, show that our students make the most progress from their starting point (the VA measurement analyses a student's progress from their achievements at GCSE to their final A level grades).
The VA figures show that 1515 out of 6060 A levels were graded one grade higher when taken at the College than if they had been taken at a college or school sixth form achieving the national average.
Looking at it another way, if the same cohort of students had taken their A levels at e.g. College H (see below) 1879 A level grades would have been lower than were achieved at Farnborough.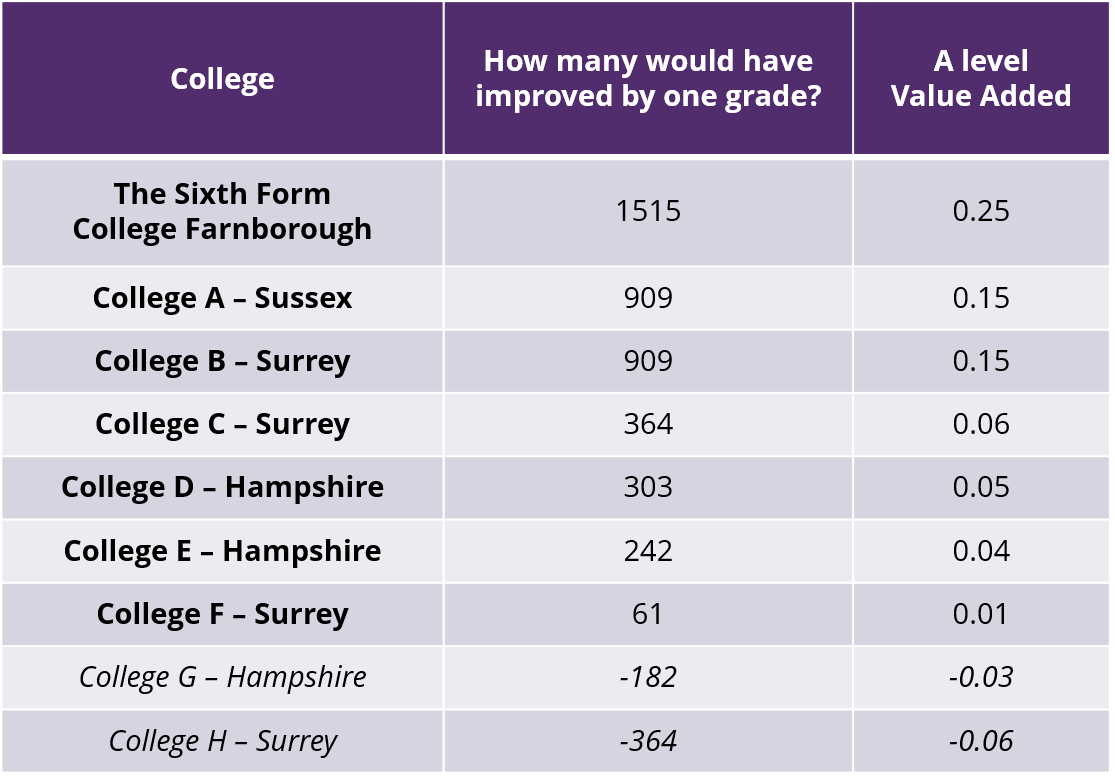 We are delighted that the hard work of our students and teachers has been recognised in the Department for Education's A level performance measures.
Post-16 educational institutions are now assessed by five distinct measures; progress, attainment, retention, English and Maths as well as destinations. These new accountability headline measures aim to give a full picture of how colleges are performing, taking account of a variety of factors. A summary of the DfE performance measures can be found here.
Previous Results
Click for 2017 results by subject:
AS Results A2 Results BTEC/Cambridge Technicals
See below for past results by subject: