The Student Union represent the views of our nearly 4,000 strong student body. As well as organising brilliant fundraising events such as RAG Week and Pink Day, the SU arrange Freshers' Week, a great introduction to being a student at Farnborough. The President and Vice President, who are elected by students, are also Academy Quality Councillors and attend regular meetings to have a real say on the future direction of the College.

There are 13 members of the SU and you can read about the 2022/23 elected students below:
Acele Santhosh - President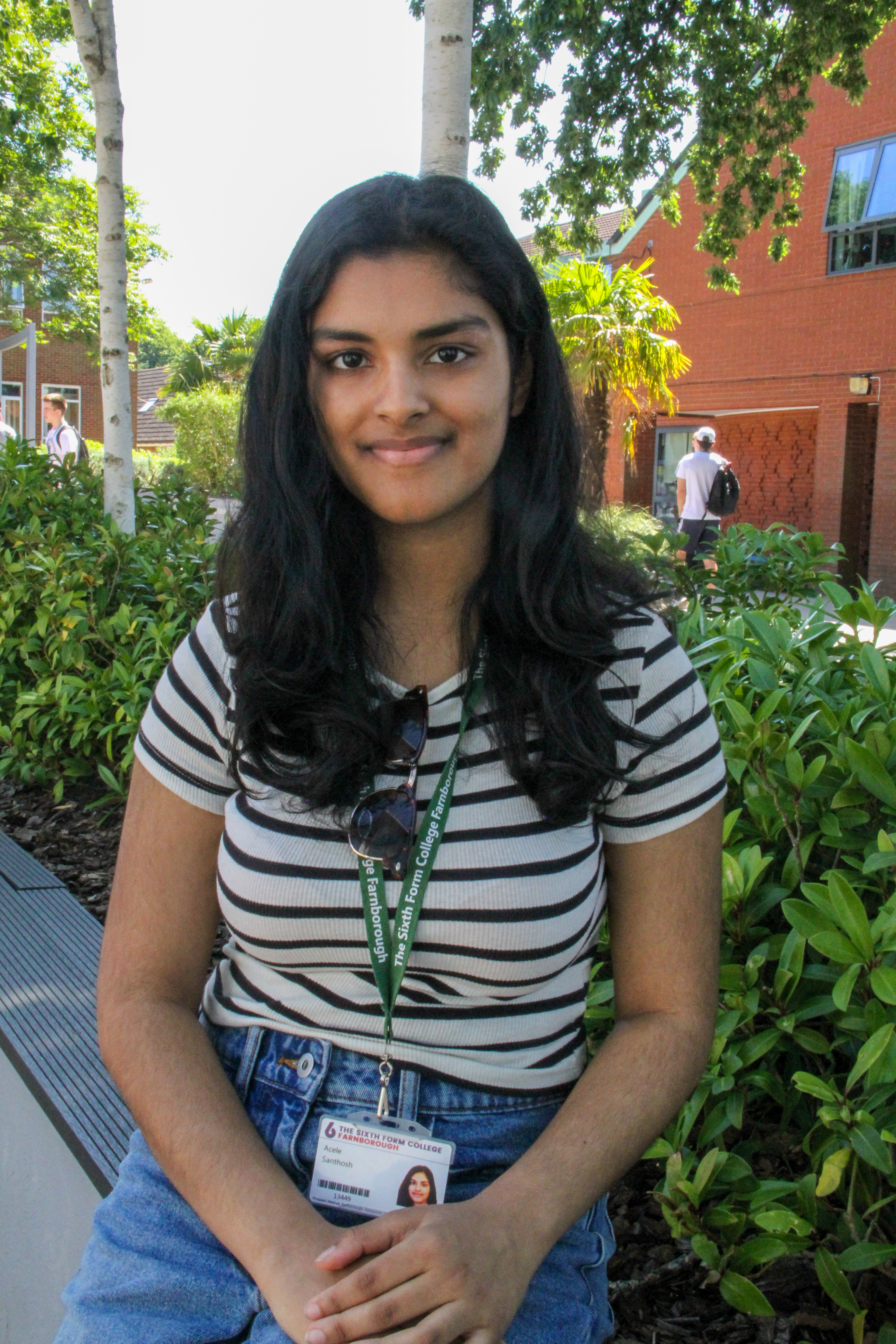 It is an honour to be your SU President for this academic year! I will strive to make your visions for this College a reality and drive improvements to maintain a supportive environment where you can unleash your full potential.
As President, I will liaise with the other Student Union members and staff, chair meetings in which we will tackle challenges within the College community, represent the College during events and voice your concerns at the Academy Quality Council meetings. I will implement and respond to feedback from you the student body and will play an active role in ensuring you all feel included and excited about your time here.
Above all, I will be committed to making each moment of your journey memorable. Do not hesitate to approach me with any queries or requests you may have.
Emre Karimov - Vice President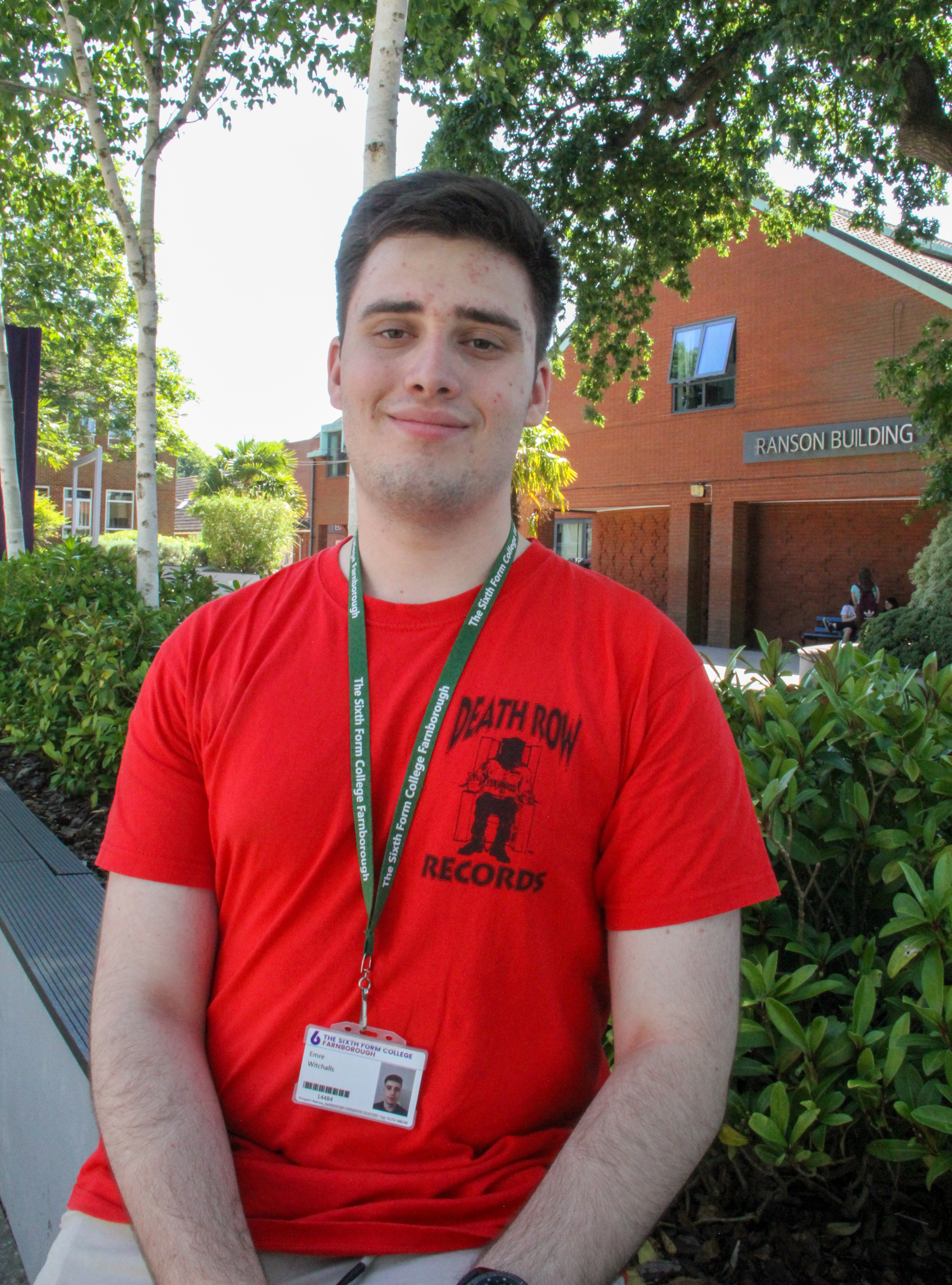 I am very honoured and excited to become the Vice President of the Student Union for this year. During my time as Vice President, I hope to get YOUR views and opinions through to higher management as well as making sure that your voice is heard and taken into account. With your help, I believe that together we can make the College a better place not just for the current students and staff, but for the many students that are yet to come to this College. If you ever have any concerns about something, do not hesitate to pop me a message through social media, drop me an email into my inbox, or just come up and have a chat with me in person. Thank you!
Marvin Dobie - Community Engagement and Volunteering Officer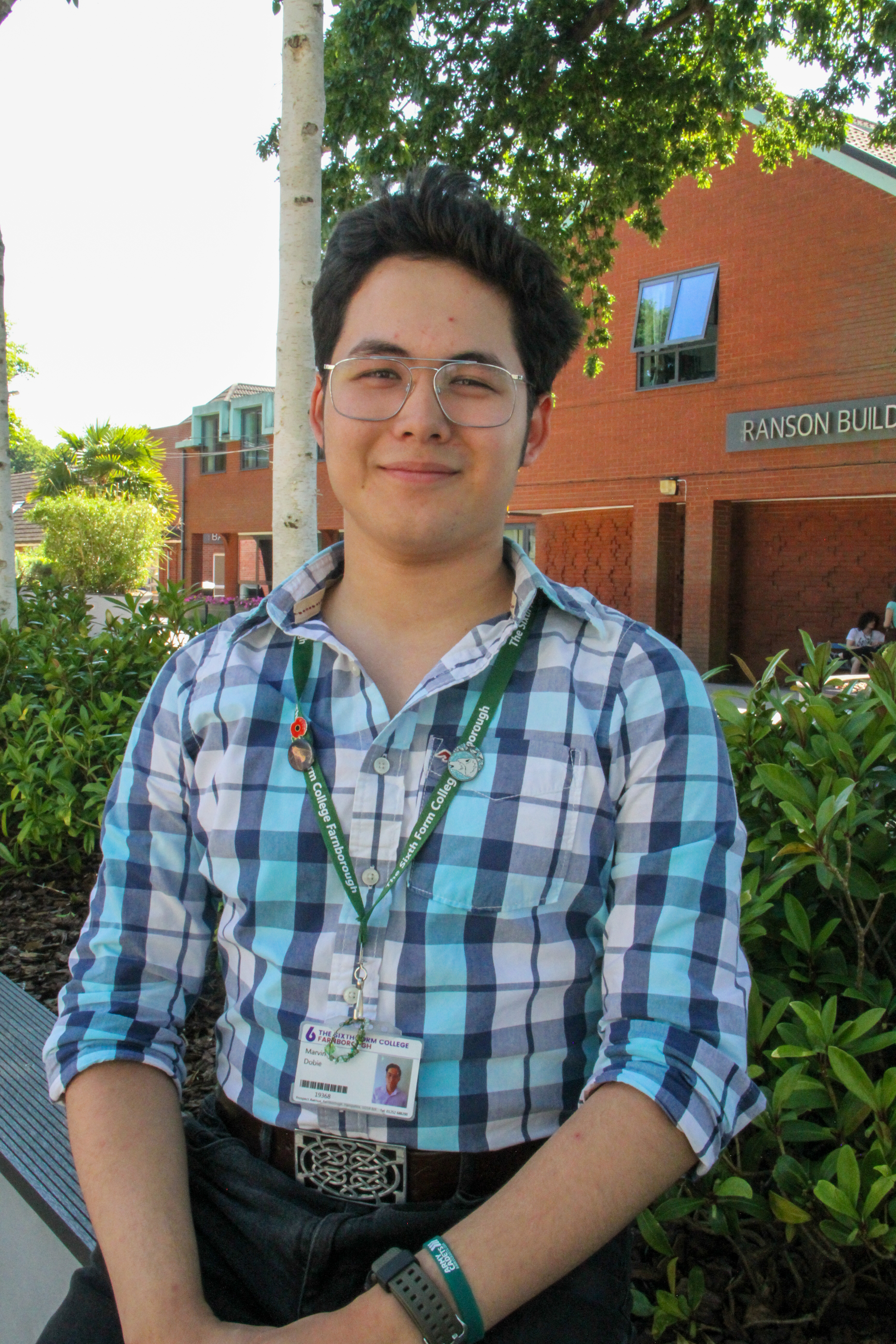 I am your Student Union Officer for Community Engagement and Volunteering. My intent is promoting volunteering opportunities and giving the College a greater local community presence, as well as allowing the local community a greater presence within the College.
I want this college to be a hub from which students can network, volunteer and engage with employers. I would like to improve the College volunteering system, liaise with charities and similar groups to create events within the College and to advertise out of college events which may be of interest to students.
Feel free to contact me with any and all remarks; I will jump at any and all opportunities
to improve this College's community engagement and volunteering.
Miréy Gerber - Environmental Officer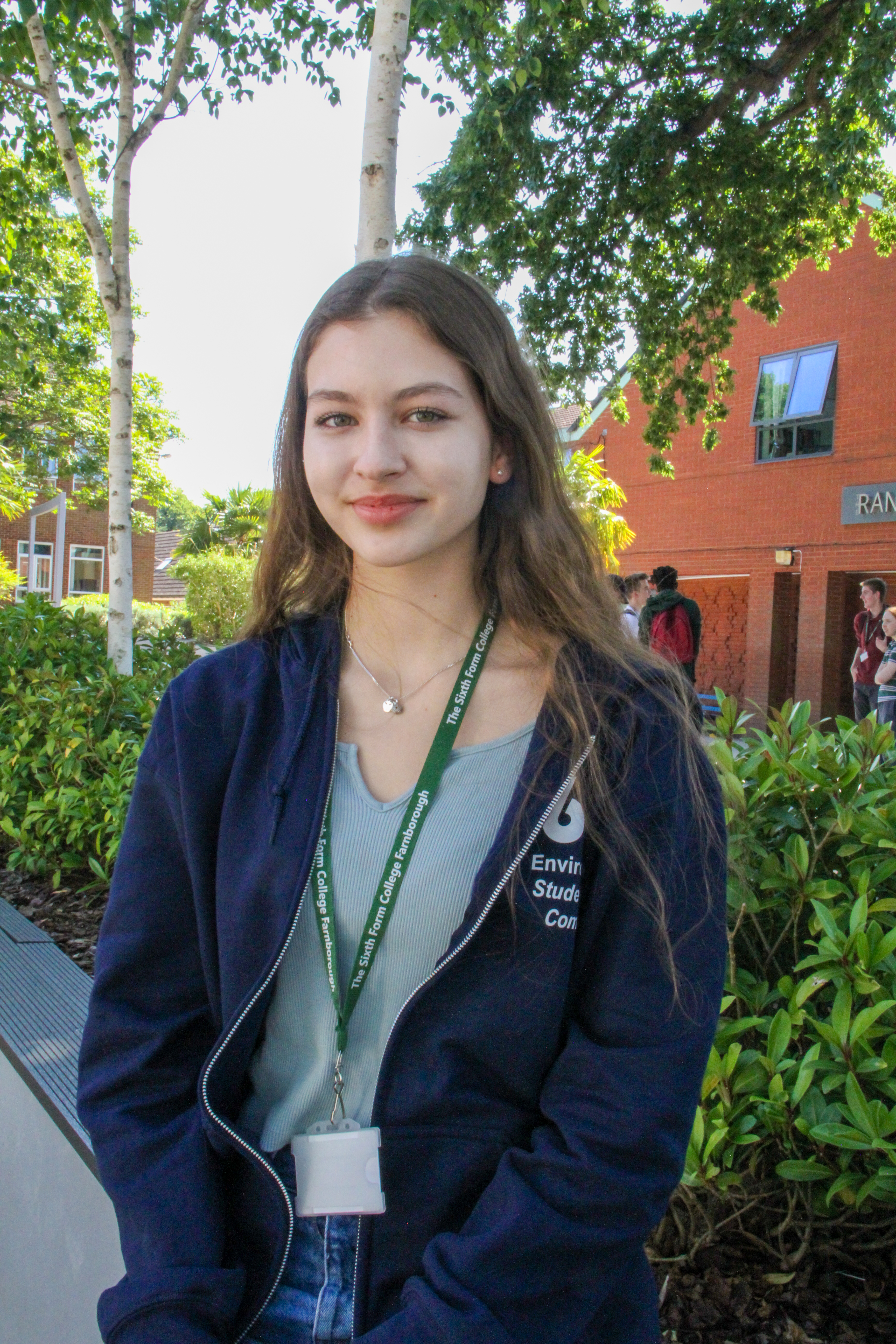 I'm one of the Environmental Officers in this years' SU! I'm really excited to work alongside other students to make the College greener and more environmentally friendly. This year, I hope to highlight the importance of reducing our carbon footprint, and develop ideas that we can introduce to achieve this. As we know, the effects of climate change will become irreversible before 2030, and so it is vital that we do whatever we can to prevent this, at home and in college.
"There is no question that climate change is happening; the only arguable point is what part humans are playing in it." - David Attenborough.
Naomi Schulz - Environmental Officer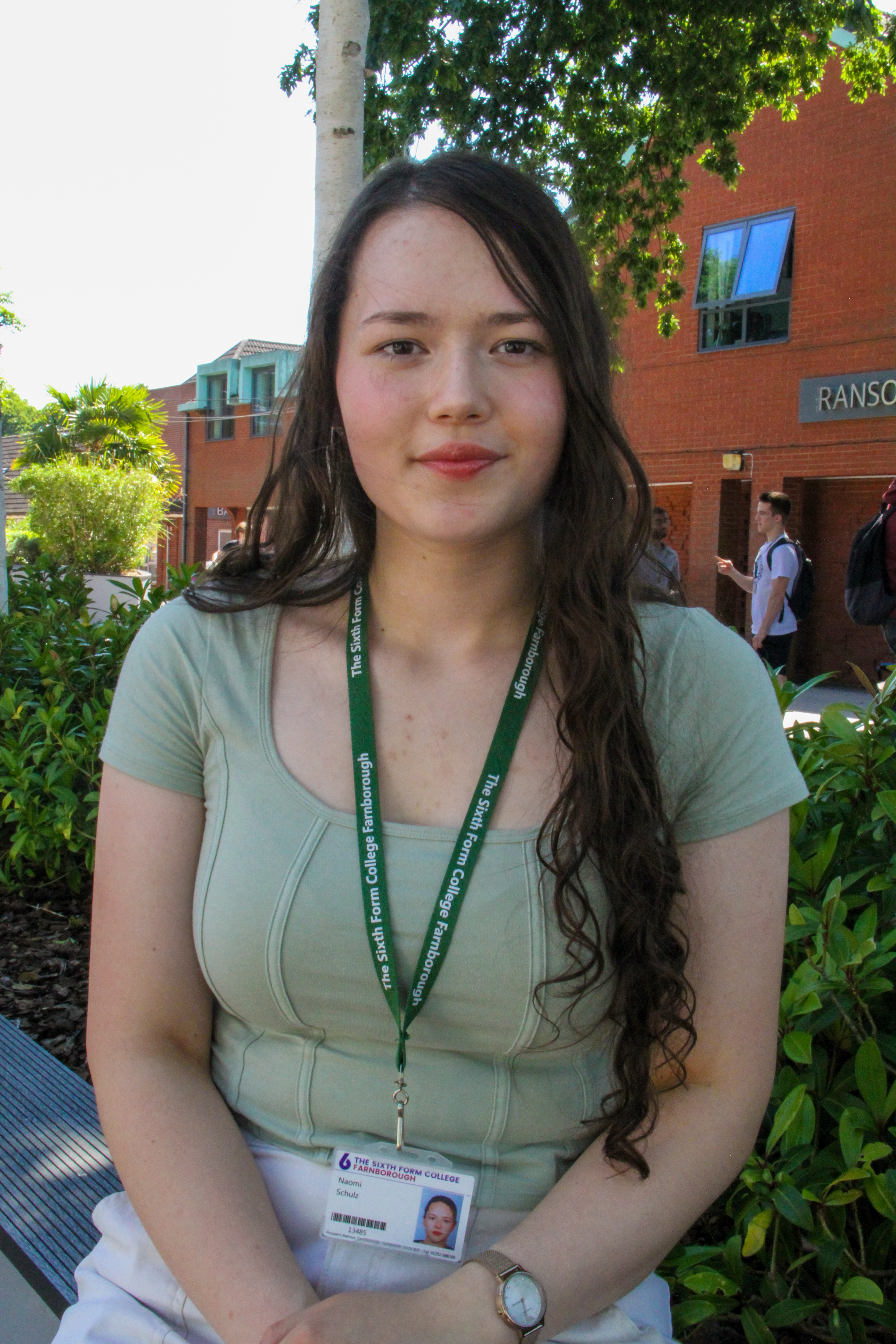 I am delighted to be responsible for helping our college population do our part in preserving our environment on a local scale - every choice of every individual matters.
A task of such gravity must be taken on as a collective. It is my job to implement the changes you wish to see, to ensure the time each of us spends at our college is as sustainable as possible. Your voices are vital so please reach out to me about absolutely anything you feel needs to be implemented, no matter how big or small the change would be.
Magda Jaruchowska - Equality and Diversity Officer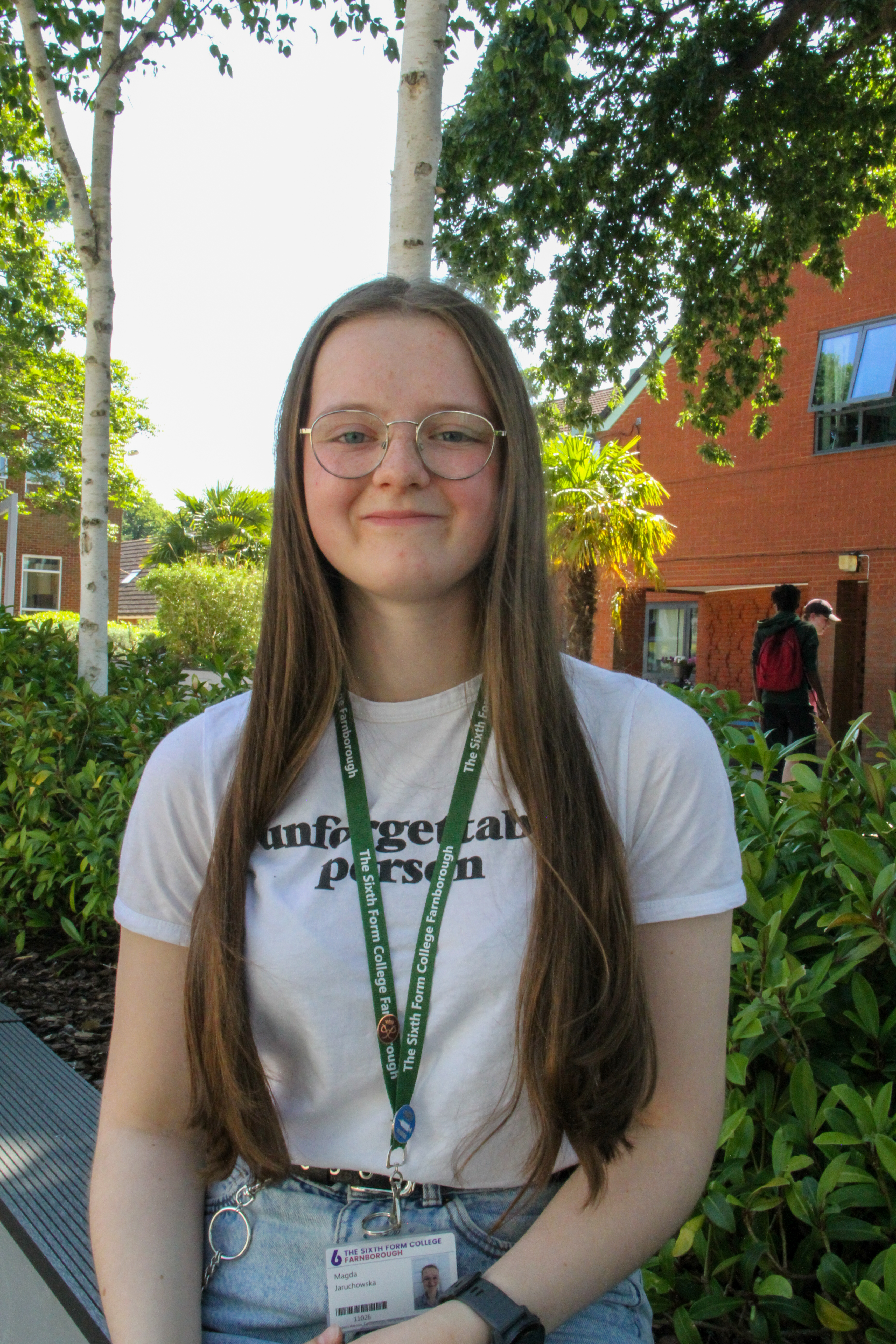 I am extremely happy and proud to be one of the Equality and Diversity Officers. I hope to continue with all of the events that happened in college last year (for example, the Culture Day), as well as keep on providing an equal and diverse environment at college. Furthermore, I want to expand these things by organising more events, as well as making sure that any students get the support that they need. I want everyone to feel equal, important and enjoy their experience going through college.
Please feel free to share your ideas and concerns with me. I want to make sure that the student voice is heard!
Prati Gurung - Equality and Diversity Officer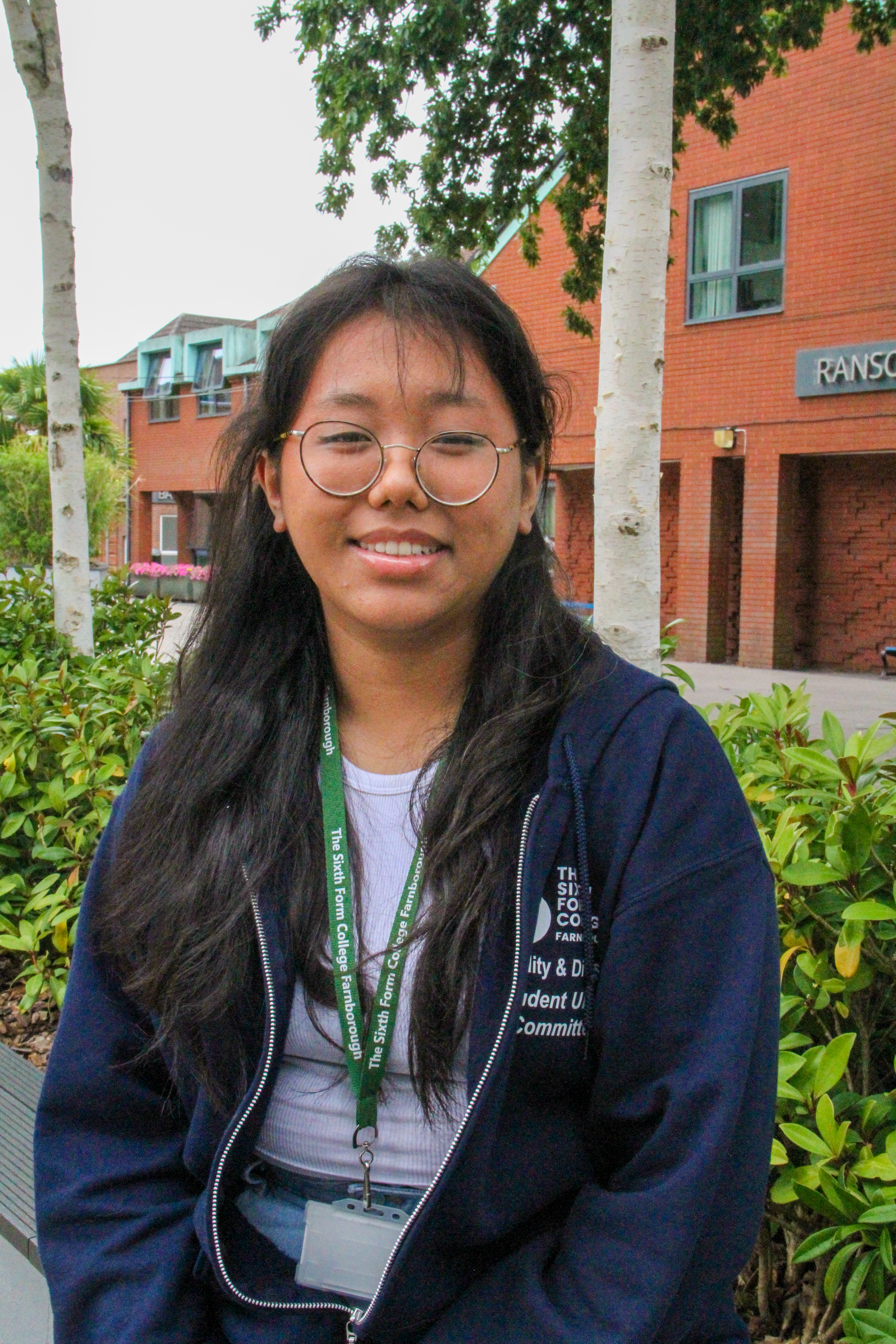 I am very excited to be involved with the Student Union as an Equality and Diversity Officer for the upcoming academic year. I look forward to being able to work together with the SU team and I hope to be able to allow for more students to share their cultures, and feel less burdened by their differences.
Feel free to contact me if you have any enquiries, personal recommendations for improvements, or even general comments. I hope you look forward to the next academic year!
Gorita Gurung - Events Officer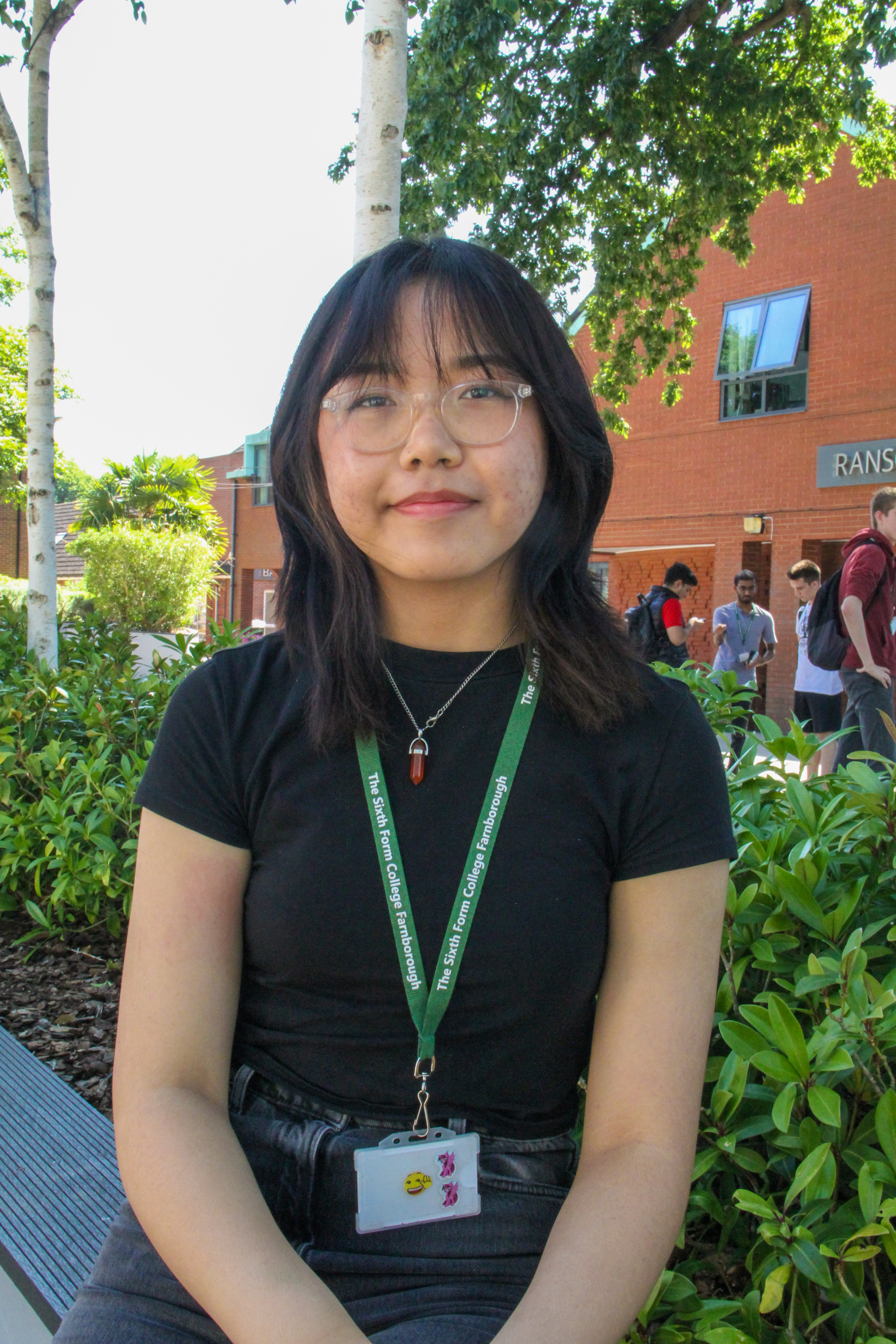 I am honoured to be one of your Events Officers for this year's Student Union. In my role,
I aim to organise events that provide an enjoyable and friendly experience for all the students at Farnborough. I will be working in close liaison with the Student Union and staff in the hopes that the events live up to your expectations.
Please feel free to contact me or my fellow Student Union members if you have any suggestions regarding events you hope to see this academic year!
Helena Hunter - Events Officer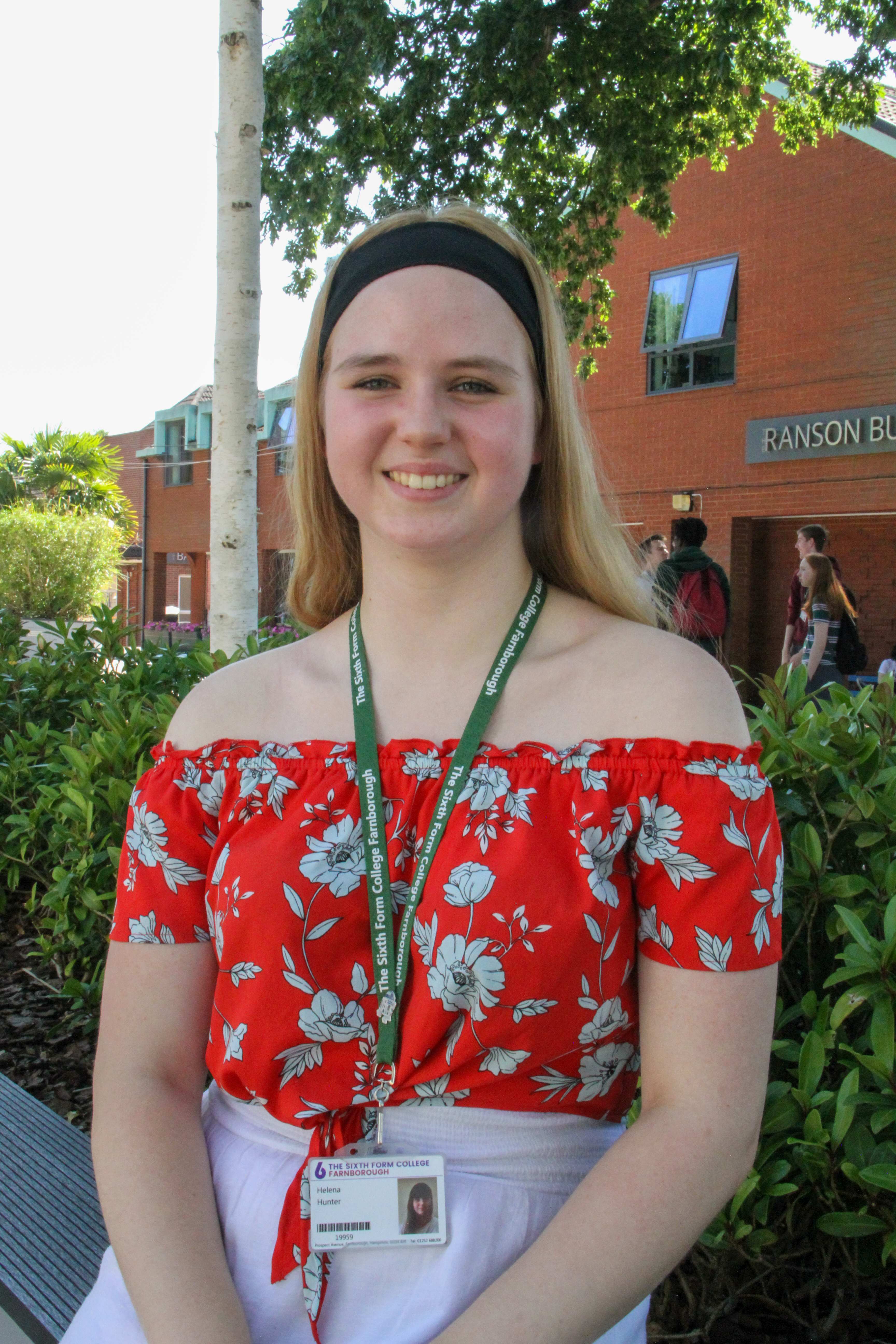 I am incredibly honoured to be taking on the role of Events Officer for the College in 2022/23, and I can't wait to start planning and organising a wide variation of events!
I am looking forward to working with the rest of the Student Union and other students to create fun and exciting events for a variety of occasions, whether this be celebrating our differences, or raising money for charity.
If you have any suggestions or concerns regarding events, please feel free to contact me directly via email. I can't wait to hear your ideas!
Isi Snaith - Health and Wellbeing Officer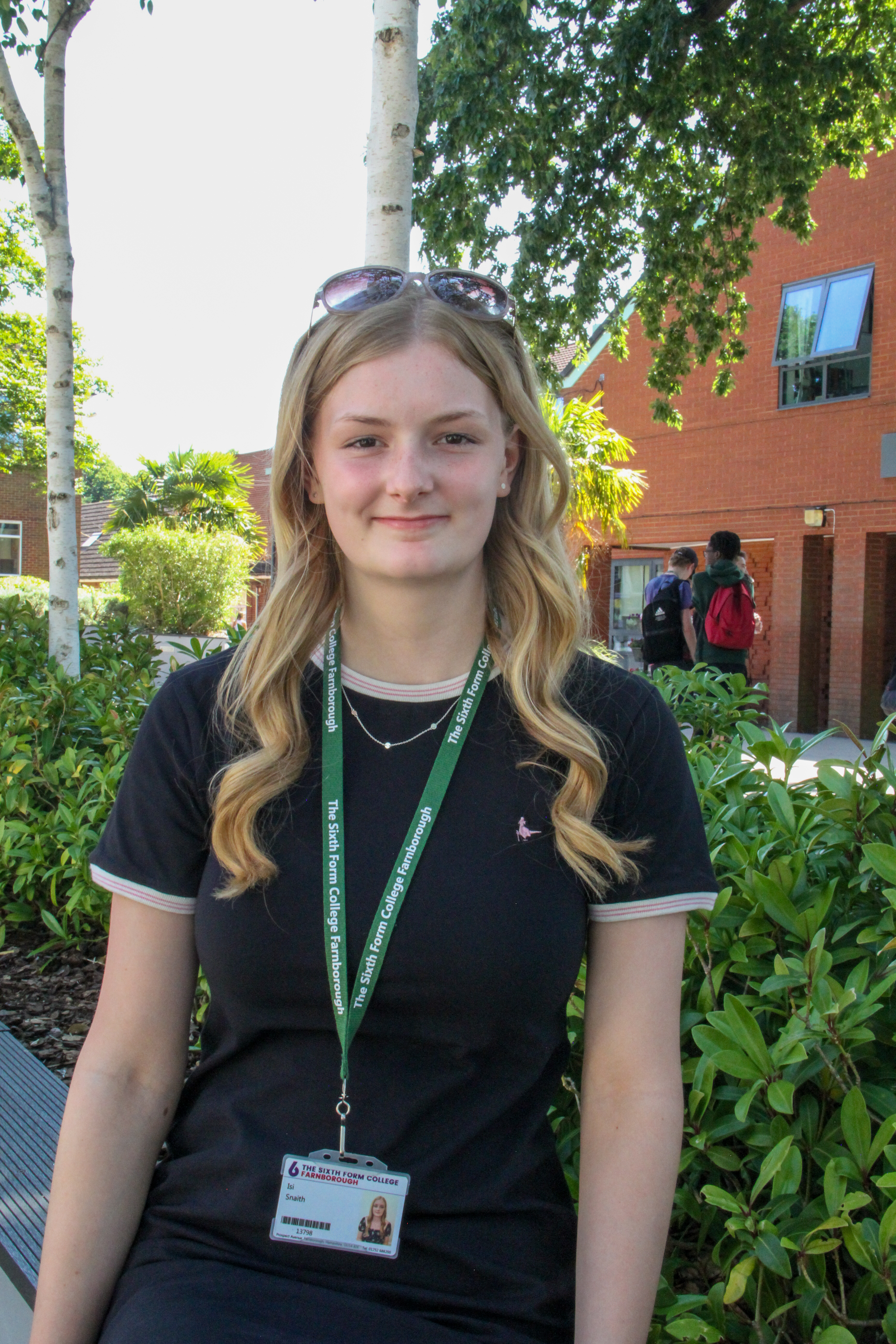 Hi, I'm Isi and I'm really looking forward to being part of the Student Union this year as
one of the Health and Wellbeing Officers. As I'm sure you will agree, the health and wellbeing of the student body is of great importance, as it ultimately shapes your experience here at the College. In my role, I will try my best to ensure that the services and support available suit your needs.
Throughout the year, I will strive to make a positive difference to the physical, social and mental health aspects of your college experience. I hope to do this by raising awareness about the fantastic services that are already offered, as well as thinking of new ways that we can improve your time here from a health and wellbeing perspective. I am extremely receptive to new ideas and suggestions that you may have, so please don't hesitate to speak to me.
Melanie Teissonniere - Health and Wellbeing Officer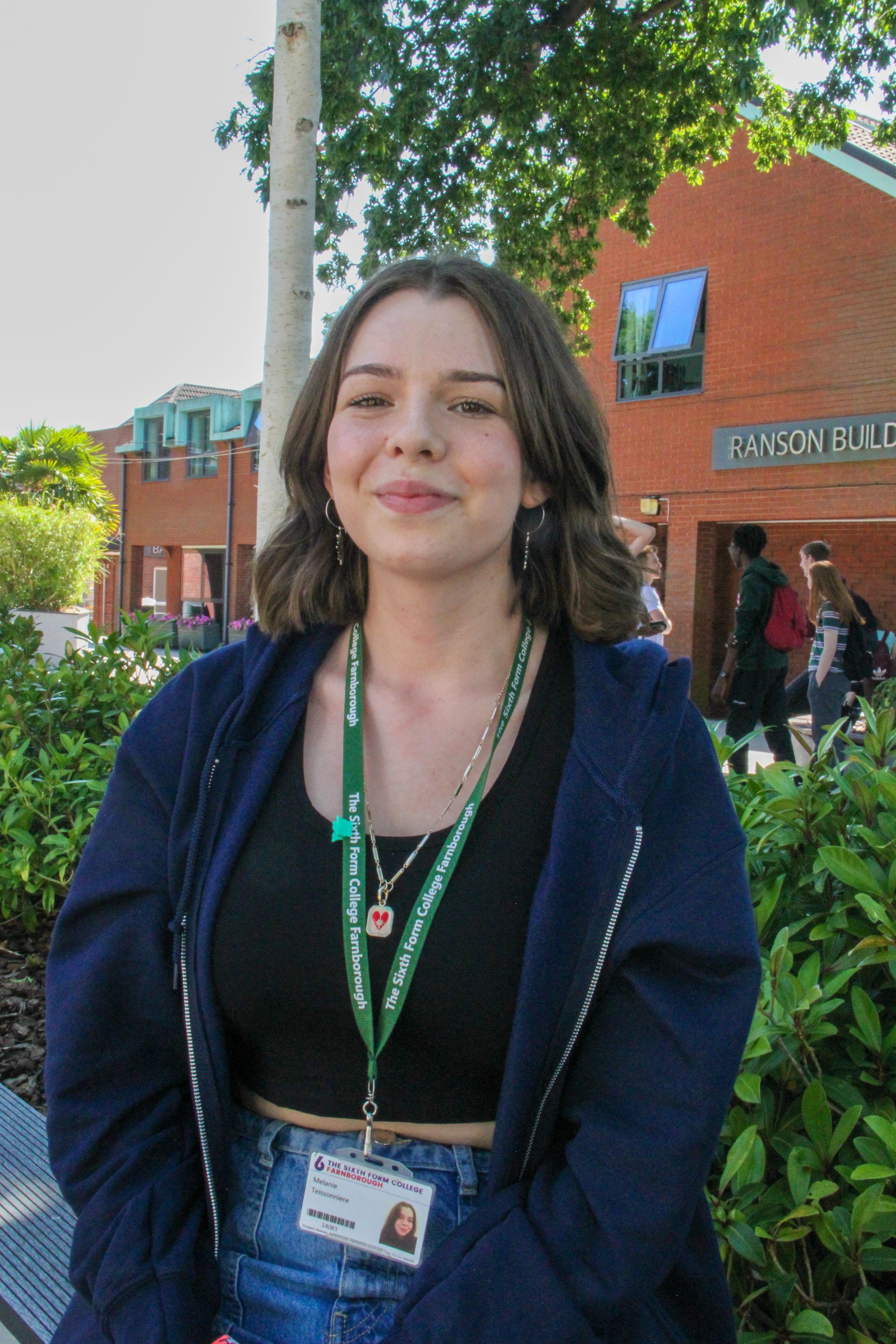 I am extremely grateful and honoured to have been chosen as one of the Health and Wellbeing Officers for this year's Student Union. My aim is to work to improve student wellbeing and to make a positive impact whilst contributing any ideas or concerns raised by students. Please do not hesitate to contact me so I can ensure that every voice is heard. I look forward to working with the rest of the Student Union this year to make the College an even better place for everyone.
Ambika Bhandari - Learning Experience Officer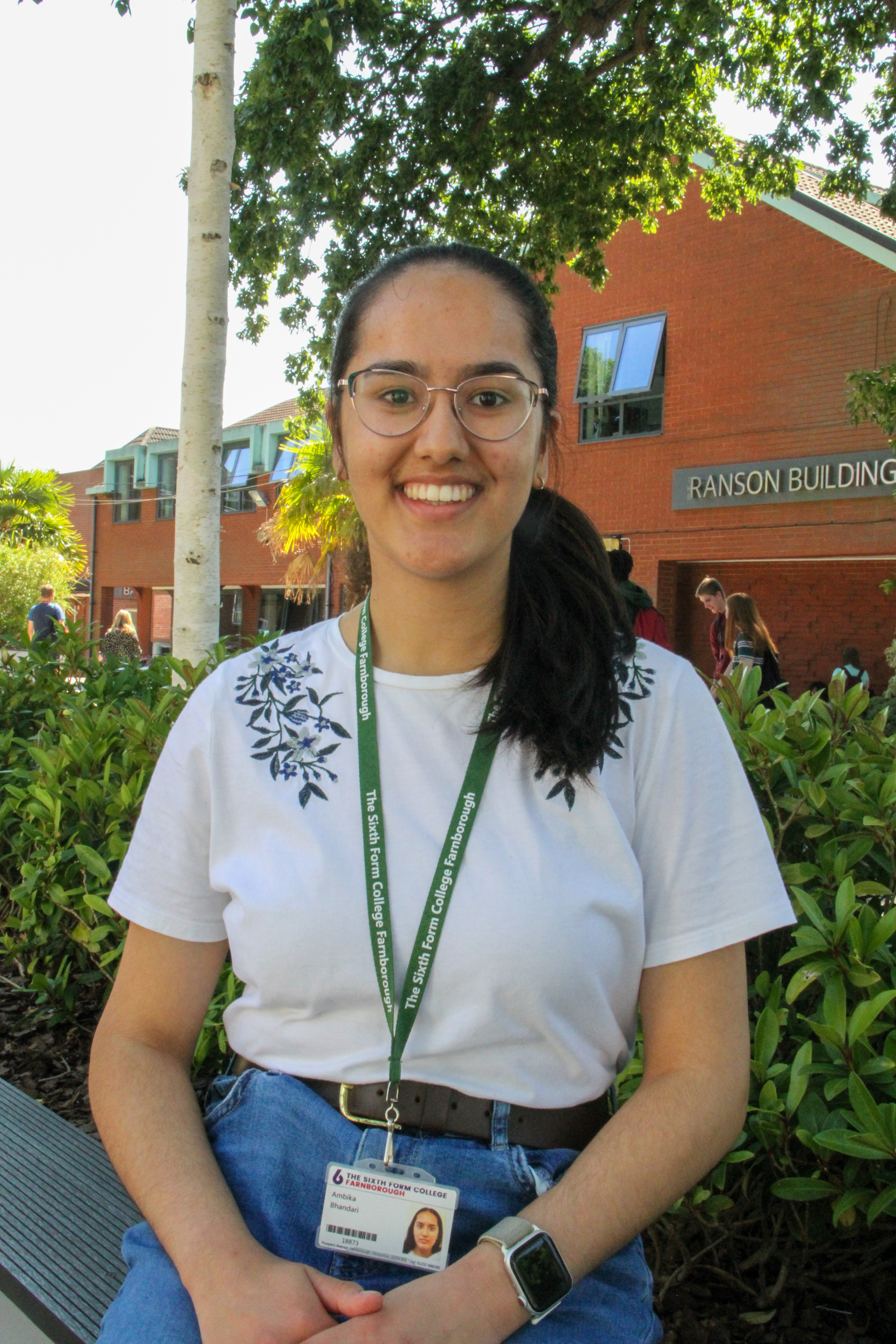 I am really looking forward to undertaking the role of Learning Experience Officer for 2022/23. I am keen to ensure that all students at The Sixth Form College Farnborough enjoy a memorable and fulfilling education, where they feel supported to succeed both within and beyond college. I aim to do this by proactively communicating the views of the student body, from an academic perspective, to key members of staff and Student Reps, as well as working alongside the rest of the Student Union, to enact changes to our college's learning environment.
Please don't hesitate to contact me or the Student Union with any ideas, opinions or concerns you may have, so that we can create a positive college experience for everyone!
Leah Potter - Learning Experience Officer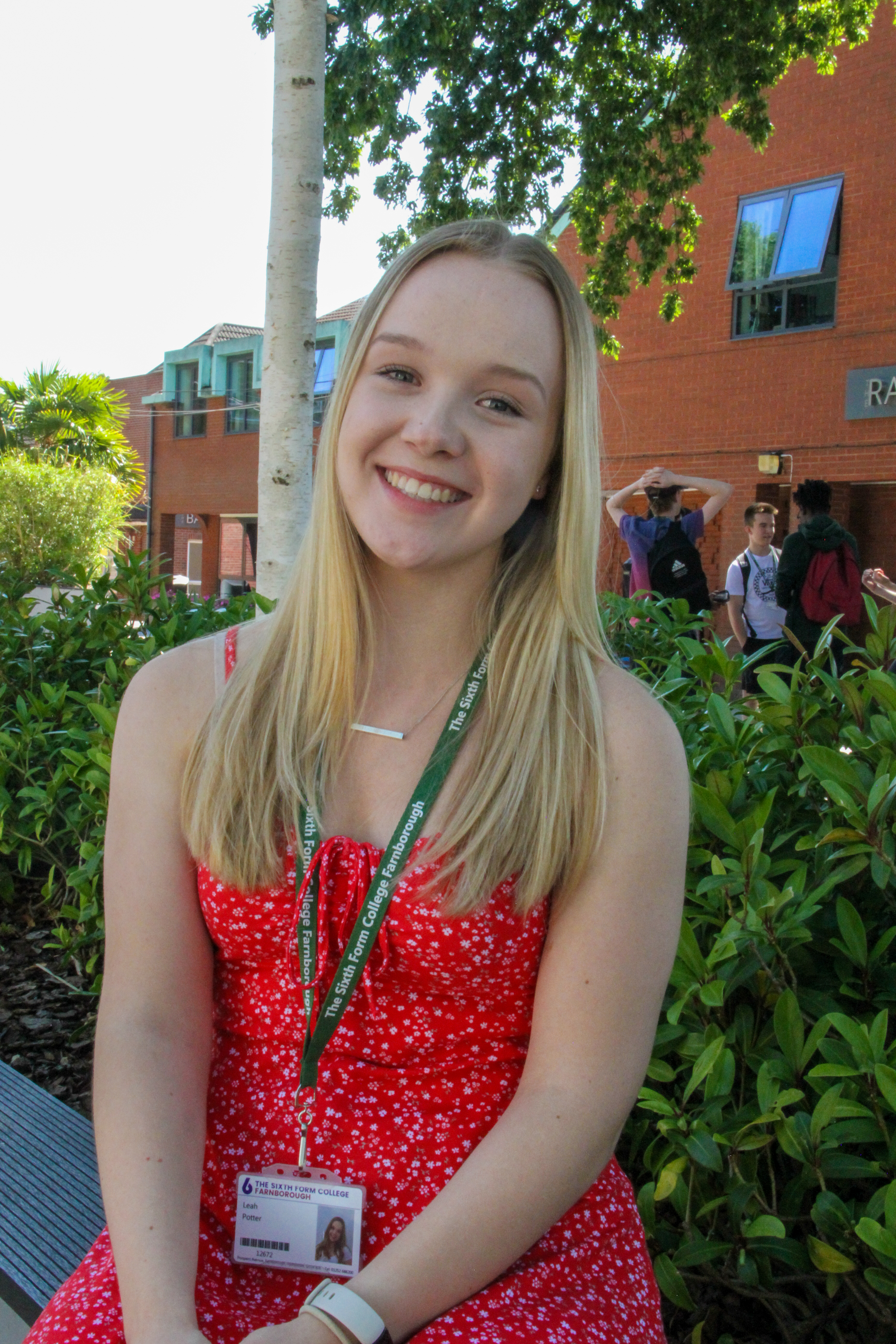 Hi, I am Leah and I am very excited to be appointed to the role of the Learning Experience Officer as part of the Student Union. I feel passionate about contributing to the learning experience at the College and will aim to create a consistently excellent learning experience for all students. I am looking forward to working with my fellow Student Union members, teachers and the wider college community to make a positive difference to our college.
I was given this opportunity to represent the student voice here at college, and it is your ideas that will help influence the collective changes that we will be able to implement. Therefore, I very much welcome your thoughts and ideas to introduce the changes you want to see, so please do not hesitate to reach out!